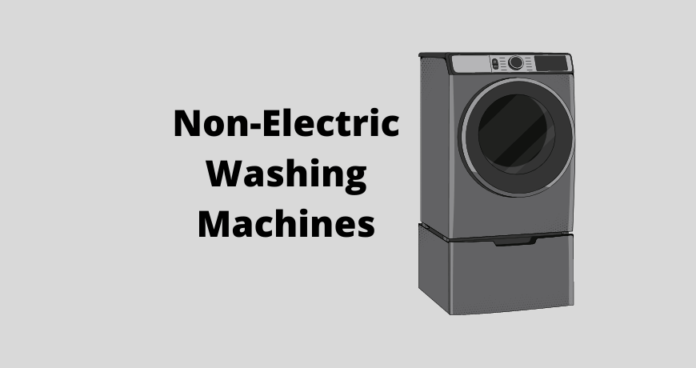 The world is facing an energy crisis, As well we all are facing a shortage of energy thus price of electricity per unit is increasing. Non-electric washing machine is an option to opt for save energy and water consumption in the home, it directly saves money. Non-electric washers operate manually and take less time to clean clothes. By using this, keep clothing safe from tearing during hard washing like an automatic washing machine. Conventional washing takes uses much more water compared to the manual washing process. since the non-electric washer is perfect to use at home.
How does a non-electric washing machine work?
This type of washer required manual action, a manual model requires you to fill up a washtub with water and detergent and either crank or pump a handle to agitate the clothes. You'll then connect a drain hose to the washing machine and drain the dirty water and extra detergents into a selected location of yours. Add fill out the freshwater to rinse and spin your clothes.
Step of washing in the non-electric washing machine
It's very simple steps, and clean clothes in a few simple steps:
Fill bucket with water manually and place on base.
Add clothes and detergent then cover with lid.
Start foot peddling to wash clothes.
Once done, pour dirty water away through the specially designed holes in the lid.
Add fresh water and peddle again to rinse.
Finally drain water, remove your clean laundry and dry as normal.
Why You Need a Non-Electric Washing Machine?
Here everyone will have a common worry about buying a non-electric washing machine for home. I also was in the same situation when I thought to write about it. Why actually need a non-electric washer. I asked my friend if I suggest the same, what they think about it, they are shocked when we found there many advantages it can give. In our discussion we reached the point, we came to know that after buying an electrically driven semi-automatic and fully automatic washing machine is so expensive and after buying, they give burden daily on our pocket by consuming more water and electricity. Non-electric washing machines are compact in size, required less space, are portable washing machines, and are suitable for a small family. Generally, they are hand-operated which give good exercise to our hand, when not find any time for our health.
List of non electric washing machine
1. MyPortaWash Compact Portable Non-Electric
MyPortaWash Compact Portable is a lightweight and foot-powered washing machine. You transport anywhere to have a quick and easy to use solution for fresh clean clothes. It's perfect for small apartments or small family, college, students, and hostel stays. It's also perfect for washing delicates like silk, wool, cashmere, undergarments, baby clothes, or pet items. Advantages of this washer are no electricity, batteries, or water source needed. Why go through the hassle of hand washing delicates, washing your dirty clothes into a laundry bag at hotels, or waiting in line at the laundromat or your dorm? It is compact and discrete enough to use or carry anywhere. It is Cost-efficient: Save electricity and water.
2. EasyGoProducts Washing Wand Hand Powered
The EasyGo Washing Wand is the most portable and affordable Hand Powered washing tool on the market. Using this washer is so easy and cleans clothes extremely well. The direct contact of the washing wand to the clothing and the push and pull suction gives a thorough rinse and cleaning of the clothes as a portable washing machine.
3. Akshar Creation Silicone Foldable Square Bucket
Akshar Creation Silicone bucket carrying handle helps to easily grab the bucket when needed and carry, Where to be laundry work done. When it is empty, the bucket becomes compact and folds into itself which makes it easy to store. Every home needs a good sturdy bucket, They help in great for washing clothes, toting stuff around, picnics, and of course, no camping trip would be complete without a versatile bucket.
Latest articles
The bottom line
Non-electric washing machines are good for small families and they are low budgets and portable type.